Part one of a series to add some hot to your drink spot
Though it may very well be restricted, travel is still a source of inspiration for us at 1792 Style. There is certainly less time spent on planes as of late, and even less sipping on cocktails in the kind of stylish places worthy of a magazine, but this has not deterred us from enjoying said stylish places — albeit from afar.
Cue Instagram. We've scrolled through and pulled together a list of our favorite good looking spots, which we'll be rolling out as part of a larger series here on 1792 Style. Each month, we'll show you a few along with some tips for how to bring the look home.
Check out our first three picks, below.
Moody Tongue, Chicago
The Vibe: Man Cave Meets Library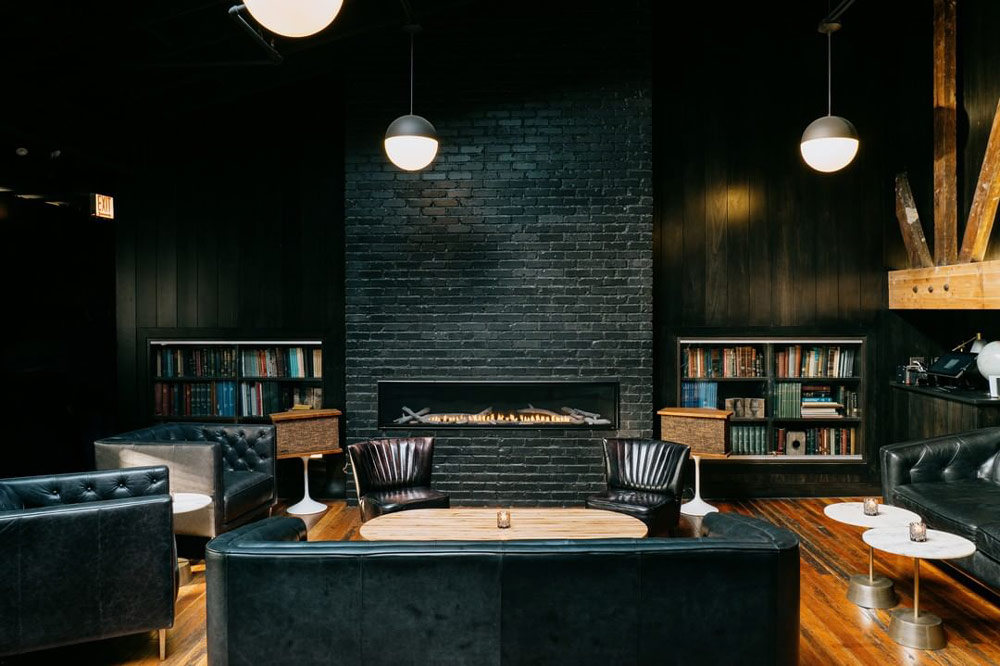 How to get the look: The bar at Moody Tongue in Chicago is the definition of a modern "man cave." Stylish, dark, comfortable, and notably unfussy, it's a fine mix of everything you need to enjoy a good drink and nothing you don't. The most noticeable aspect of the space are the black walls, which are key to bringing the look home. Their scheme includes paneling with a charcoal wash, but you could easily achieve something similar with nothing more than a few gallons of good paint. Tchotchkes? None here. Follow Moody Tongue's lead and keep accessories to a minimum—a few shelves filled with books, bare floors, and leather furniture without a throw pillow in sight.
Sid Gold's Request Room, Detroit
The Vibe: Un-Steely Motor City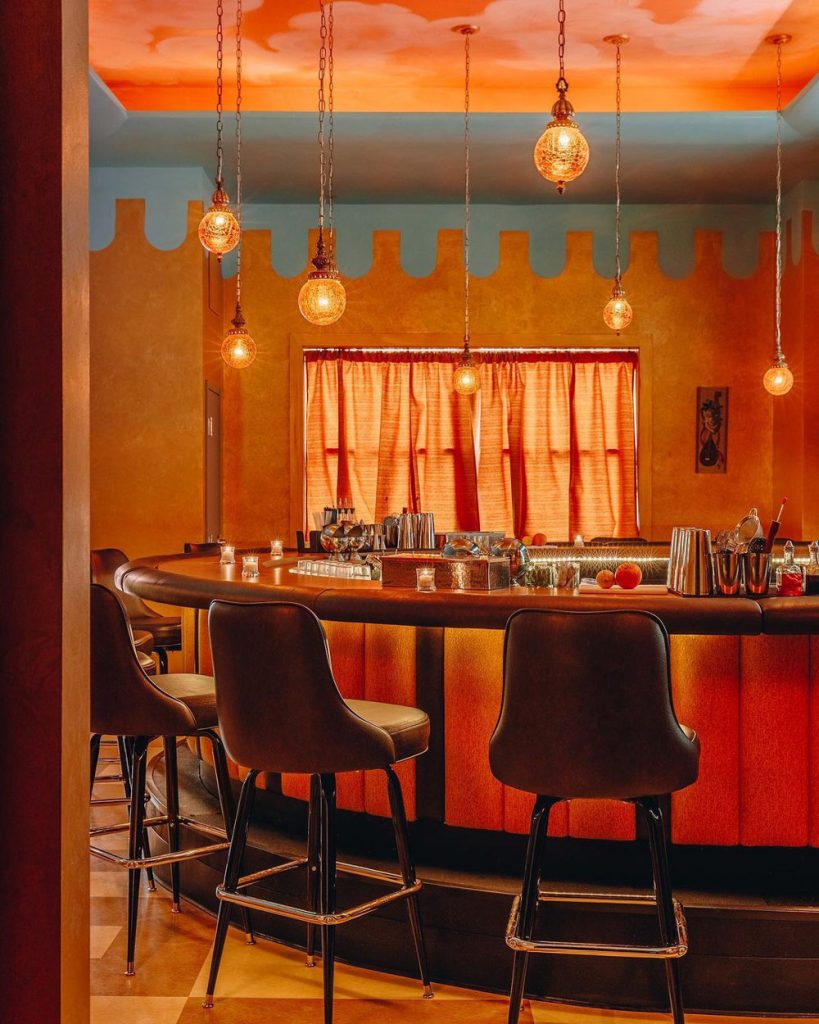 How to get the look: An outpost of the famed New York karaoke staple, Sid Gold's Request Room speaks to the forgotten style of the Motor City. Located in the Siren Hotel, it's everything your dad's basement bar was, but with a post millennium twist that makes it undeniably cool. Cushy vinyl clad stools, mood lighting, and a color scheme reminiscent of yesteryear's finned wonders on wheels are the kind of things you'll find at Sid Gold's that are easily replicated at home. Search for images of vintage Fords, Buicks, and Cadillacs and match a few paint chips to your favorites. Paint the walls something neutral and accent the ceiling and trim with a hit of color. Next, create a counter, line up some old school barstools and a few shelves of barware to match. Plug in your karaoke machine, dim the lights down low, and call it a day.
Leo's Oyster Bar, San Francisco
The Vibe: Laid-back tropical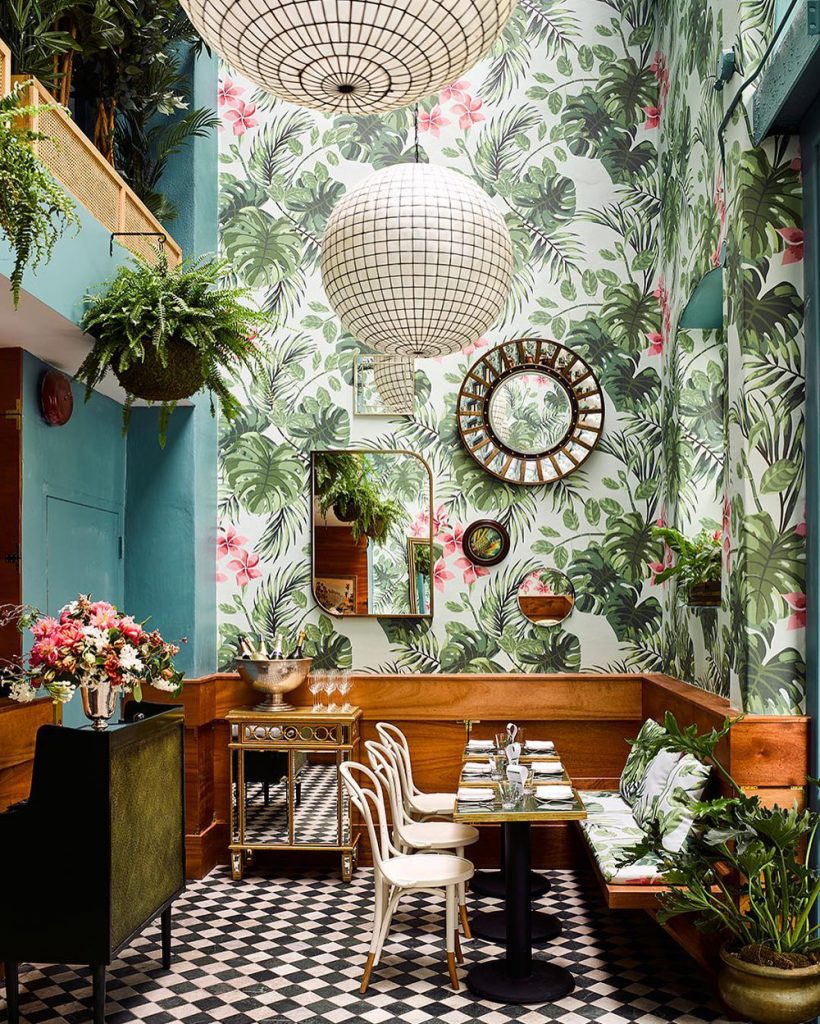 How to get the look: Designer Ken Fulk shows how to go tropical without going overboard. Leo's Oyster Bar in San Francisco has a look that's more "tiki" than "man cave," which could be just what the doctor ordered come a few months of winter spent indoors. For your walls, you'll want to go to TOWN with a print that looks as good as a Caribbean breeze feels. It should have impact, yes, but make sure the colorway is more muted than neon as too much of a bright pattern can quickly become too much. In addition to pattern, plants are also crucial. Hit up your local nurseries for potted beauties to bring some life to darker corners — the waxier the leaves, the better. 
Editor's Note: Top photo by takahiro taguchi on Unsplash