Nobody does it better than the French
As part of our research about how to best cook a steak, we spoke with a particularly well-traveled man with an encyclopedic knowledge of Michelin starred eateries who, most indignantly, proclaimed that there is only one way to prepare a proper steak: The French way.
Classic Steak Frites is what he meant (steak and fries) and it's served at brasseries all over Paris including the upscale restaurant named after the prime rib-eye cut. The dish is made with—Le Relais de L'Entrecôte, a deceptively simple recipe that calls for little more than seasoned meat and a buttered pan. It takes patience to get the flavors just right and requires a sense of timed precision that only comes with dedicated practice.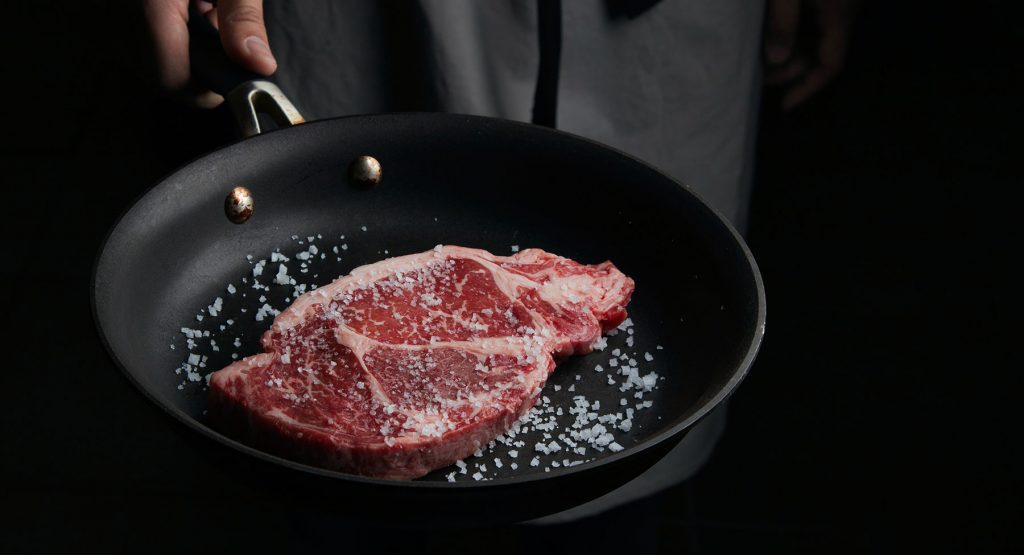 Ingredients (serves two): 
3 large potatoes
Vegetable oil
2 10 ounce rib-eye steaks
2 shallots, chopped
1 sprig of fresh thyme
6 tablespoons of butter
Sea salt
Black pepper
Directions:
Frites:
Peel the potatoes and slice lengthwise to ¼ inch thick pieces
Soak pieces in ice water for 15 minutes
In a large saucepan heat 2-3 inches of oil to 325℉
Remove potato pieces from ice and blot dry
Fry potato pieces in batches for 5 minutes per batch
Set each batch aside on paper towel to dry as they are ready (fries should be golden, not brown)
Steak:
Season steaks with salt and pepper on both sides
Heat a large pan to 248℉ (smoking point) and add butter to melt
Place steaks in pan and brown for 3-4 minutes on each side until rare (Cook longer if desired)
Plate steaks and serve with frites
Editor's Note: Photos by Nanxi wei on Unsplash