It's time to grill out with 1792 Style
The beautiful images you often see here of 1792 Bourbon are most often taken by 1792 Style photographer Victor Sizemore. A true renaissance man, Victor is also an excellent cook. His signature brick chicken recipe is one that is too good for us not to share.
Make the most of your grill before summer's end and create this filling, end-of-season dish best served outside.
Victor Sizemore's Brick Chicken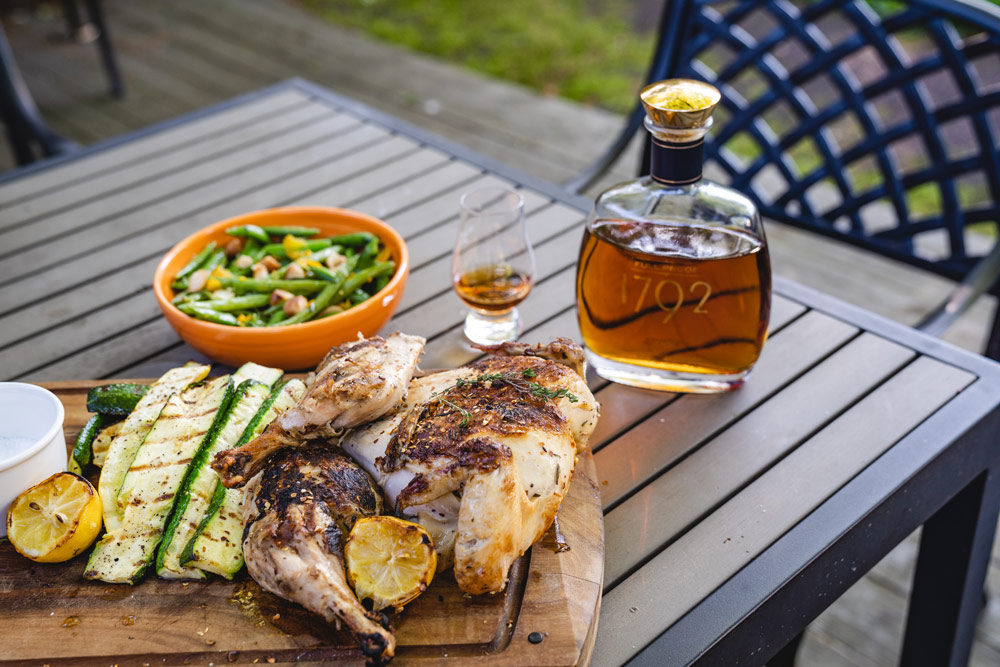 Ingredients
1 Whole chicken
2 Sprigs of rosemary
3 Sprigs of thyme
3 cloves of garlic
4 tbsp of Olive Oil 
1 Lemon (halved and grilled)
Kosher Salt 
Cracked Pepper 
Crushed Red Pepper 
Preparation
Spatchcock the chicken by removing the backbone to flatten. 
Using kitchen shears, cut down both sides of bird, removing backbone and reserving for stock. 
Flip chicken over and press firmly on both breasts to flatten bird. 
Finely chop rosemary, thyme, garlic and combine with olive oil in a small dish. 
Rub mixture all over chicken and then season with salt and pepper. 
Let marinate for 2-3 hours before grilling. 
Cooking 
Wrap a brick in two layers of aluminum foil or you can use a cast iron pan. 
Light grill to high heat and place chicken skin side down, with brick on top and allow to cook until the skin has begun to crisp. 
While cooking the first side of the chicken, grill your veggies of choice and two lemon halves. 
Once the first side of the chicken has cooked to a nice seared crisp, flip the bird and replace the brick. Adjust the grill temp as needed, taking down the heat and cooking through. 
Using an instant read thermometer, check for an internal temp of 165 degrees around the thigh bone area. 
Once cooked, allow chicken to cool for several minutes, then quarter and season with crushed red pepper and kosher salt. Serve alongside veggies with grilled lemons squeezed overtop.