For when you want something with a kick
There are times when you want a cocktail that's silky smooth and there are times when you want something that's got a kick. The Old Pepper is for when you want something that's got more of a kick. 
A recipe originally created at the New York speakeasy Milk and Honey, it's got a base of sweet turbinado flavor punctuated by a hit of hot sauce and a few dashes of Worcestershire. If you could take a southern summer night and put it in a glass, it would probably taste something like this.
Cheers!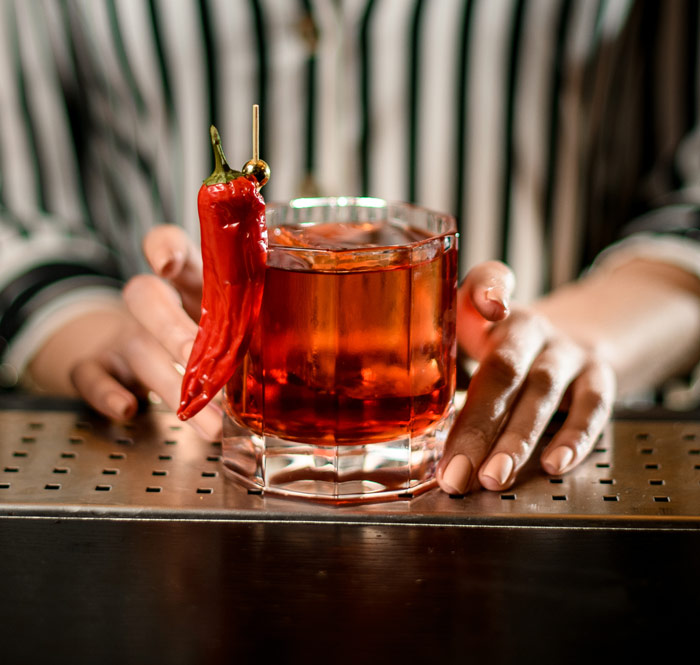 Old Pepper Cocktail Syrup Ingredients:
1 cup Sugar in the Raw turbinado
1/2 cup water
Old Pepper Cocktail Ingredients:
1½ oz. 1792 Bourbon
¾ oz. Turbinado Syrup
½ oz. freshly squeezed lemon juice
¼ oz. Crystal hot sauce
3 dashes Worcestershire sauce
Garnish: 1 chile de arbol
Old Pepper Cocktail Syrup Directions:
Combine sugar and water in a saucepan over medium heat.
Bring to a boil and stir occasionally.
Reduce heat and simmer until sugar is dissolved and syrup has formed.
Remove from heat and let cool.
Old Pepper Cocktail Directions:
Add ingredients (except for chile garnish) to a cocktail shaker with ice.
Shake until cold.
Strain into an ice-filled glass and garnish with chile.