And No, It's Not Navy 
Fall is a season of change, so it's appropo to try something new with your suit of choice. One suit can go a long way if you use it in versatile fashion.
You do want to set yourself apart, however, so let's go with a dark burgundy mohair suit this fall. It's as versatile as your go-to navy and may outperform it in more ways than one. For more, we turned to Tom James style expert Jeff Taccetta. He explains why this suit is worth your while and how to wear it.
From Jeff:
Mohair is a natural fiber that operates as a natural insulator, meaning it regulates temperature extremely well — it'll keep you cool in summer and warm in the winter. Style-wise, the richness of the burgundy lends you a look that's unique and showcases your appreciation for style, yet subtle enough to keep you from looking like you're trying too hard to make a statement.
How to Wear the Mohair Suit
Mohair Suits for Work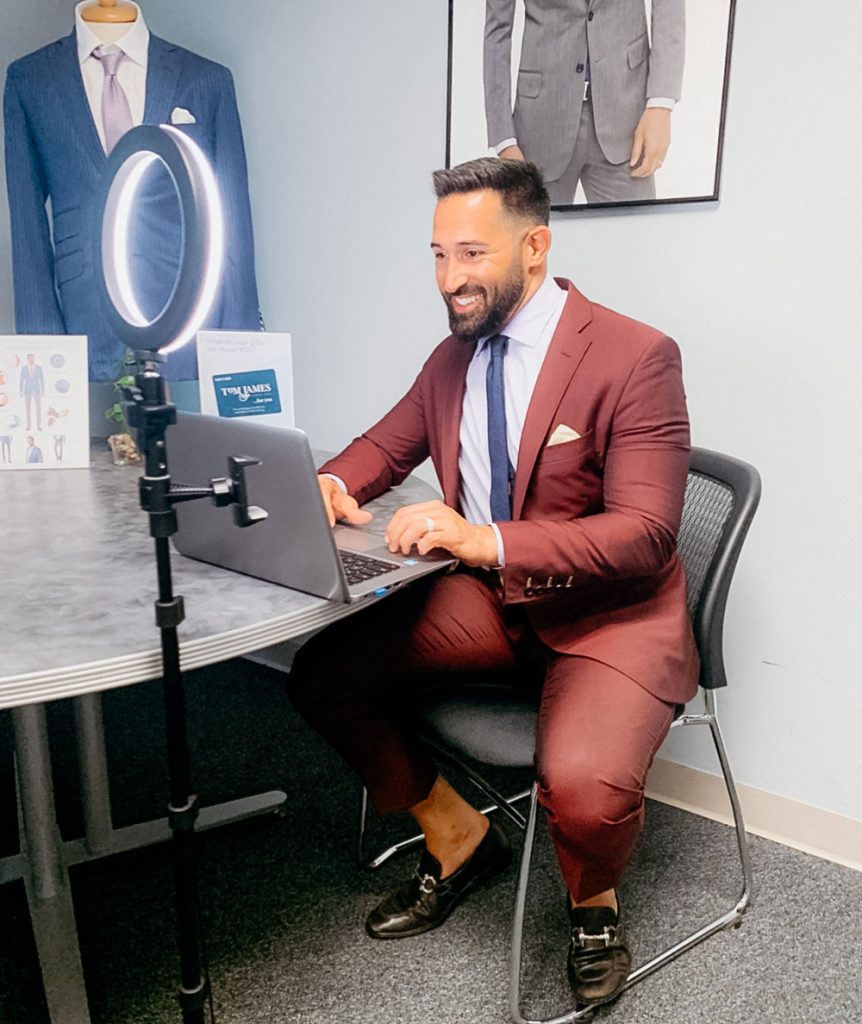 There's no shame in dressing up for Zoom. Burgundy falls in the jewel tone family, so it shows up extremely well on camera, making it a great color to wear on important video calls with clients and higher-ups. Dress it up with a light lavender shirt and solid navy tie (such a combination may even make you more productive while working from home).
And don't forget the shoe! When it comes to dress loafers Salvatore Ferragmo is one of the best in the game. Brown has been king for a long time and isn't showing any signs of slowing down. The iconic Ferragamo metallic bit dresses this distinguished loafer up to be worn with any suit and falls in line with the more casual approach fashion has headed towards the last few years.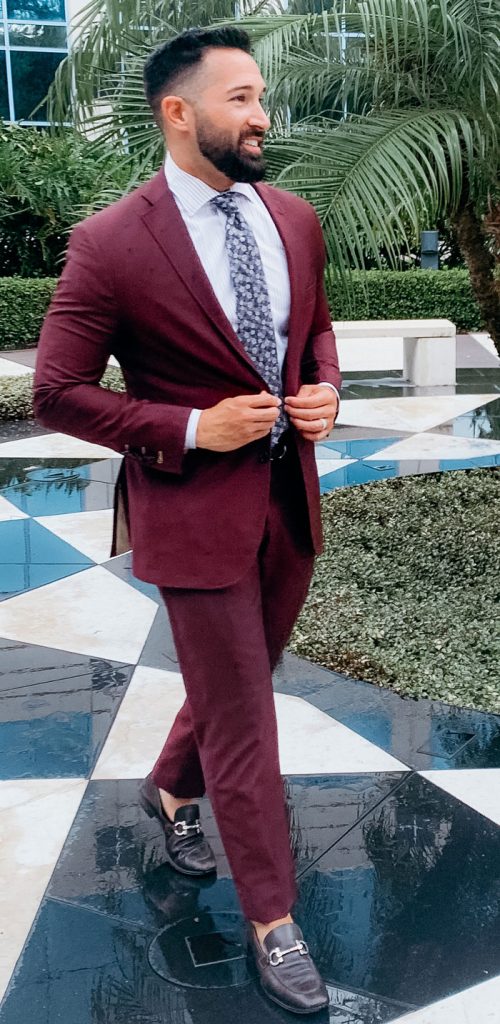 Mohair Suits for Business Casual (and Safely Socially Distant)
Burgundy is also a great color for any dressier small gathering left on your calendar this fall. Wear it with a colorful striped shirt, a printed tie, and brown loafer to a wedding IRL or even nuptials by video conference. As for the shirt, gray is one of my personal favorite colors to work with in shirtings. It's just as versatile and user friendly as a white solid, but not nearly as boring. Subtle details like a contrasting fabric in the collar, cuff, and placket will help elevate this look to the next level.
Be sure to keep things comfortable when it comes to your footwear. White bottom sneakers and dress shoes have taken men's fashion by storm. This black McFarland sneaker by Johnston & Murphy will help keep you looking relevant, not to mention extremely comfortable.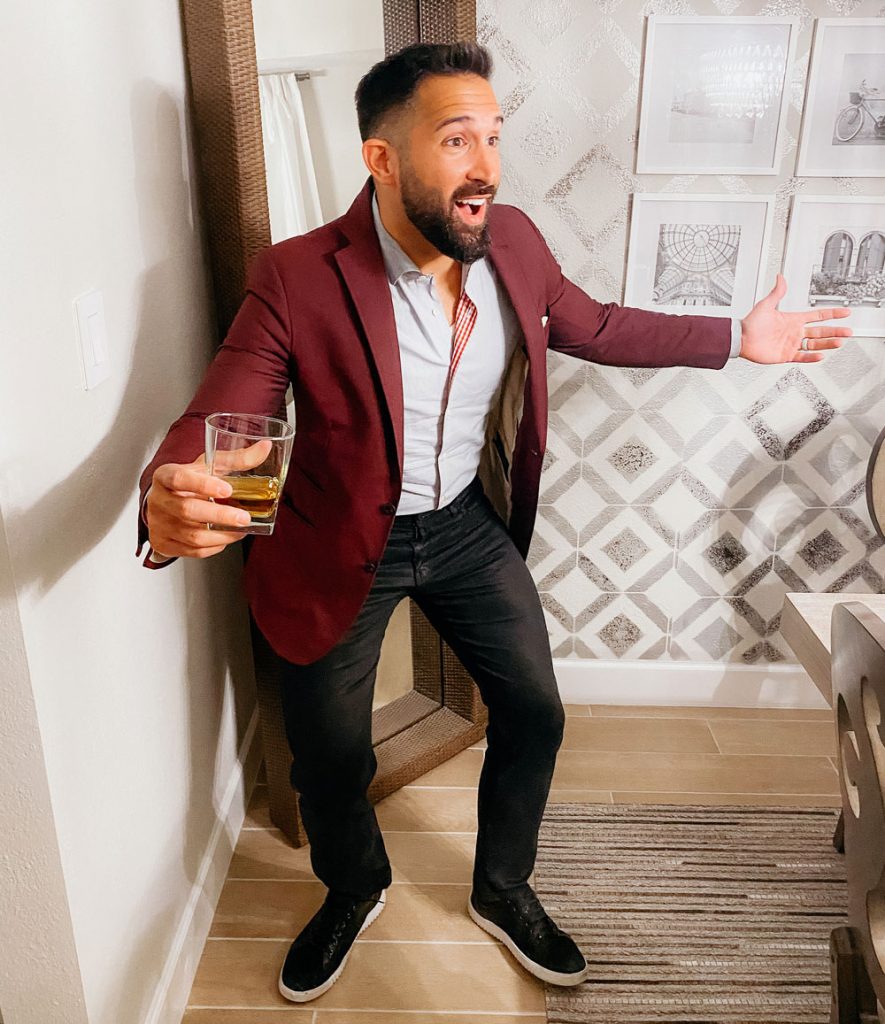 Mohair Suits for Casual Settings
No matter what, dress like you're going somewhere … 'cause you are!! Express your personal style by breaking up the suit and wearing it with black 34 Heritage stretch cotton 5-pocket jeans, Johnston and Murphy black McFarland sneakers with white soles, and a solid grey shirt with an open collar.
Why the stretchy jeans? Stretch fabrics are becoming more and more popular in men's fashion. And you can start implementing this trend with your denim choice. 34 Heritage executes on this trend with perfection, giving you a pant dressier than your common jeans yet more casual than a wool trouser. The black five pocket is perfect for any social occasion worth getting dressed up for.
How do You Mohair?
Now that you've had some inspiration from Jeff, what are your Mohair preferences? Share a shot of your style with us on Instagram by tagging the image with @1792bourbon.
Editor's Note: Top image by Spencer Davis on Unsplash. All other images by and featuring Jeff Taccetta.