Elegant ideas for the newest fashion accessory
By Diego Leon (@DandyInTheBronx)
Who would have thought three months ago that the face mask would become the latest trend in 2020 fashion? Yet stylish and creative masks are making their way down every runway, virtual or otherwise, providing a new and interesting way to make a statement. Think of it as a new kind of pocket square or scarf to accessorize with your outfit.
However, just because face masks are now trending, it is critical to emphasize that safety should always come first. After all, the mask is not there purely for aesthetic value and is intended to prevent the spread of viruses.
How does this latest trend translate to the man who wants to maintain a sense of elegance, sophistication and professionalism while going about their business masked? Here are my top style and fashion tips for the sophisticated masked businessman in 2020: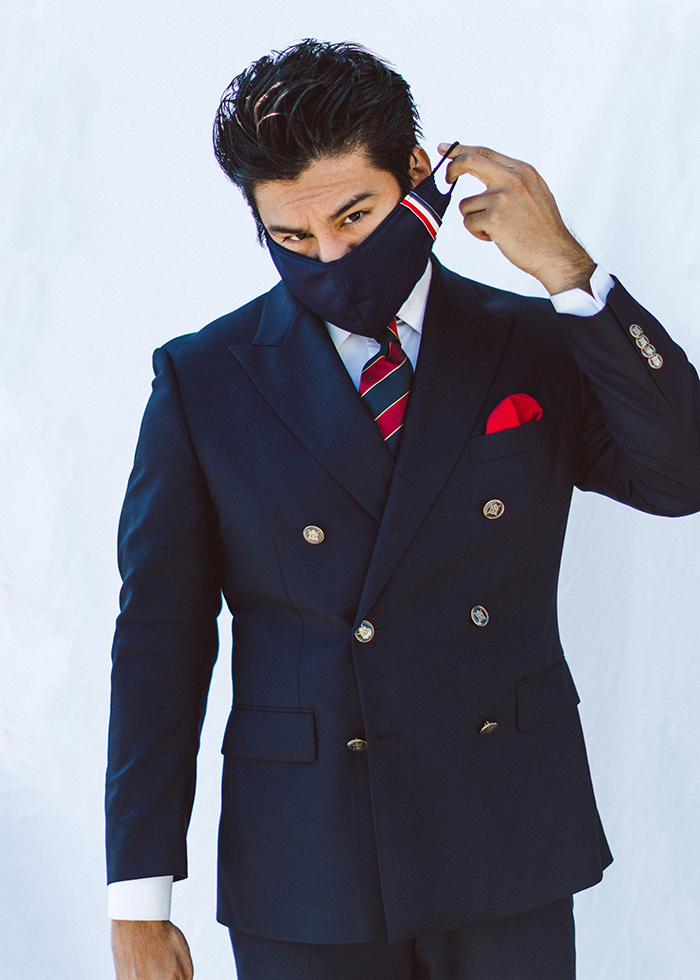 Mixing
Don't be afraid to make a bold statement with a face mask. Bright colors and print can be used to make that mask stand out in the same way a tie, pocket square or scarf can be used to add some flash to an otherwise boring, plain business suit. However, it isn't recommended to go for silly or cartoonish masks, but rather stick to more serious prints or colors that are an expression of style rather than opinion.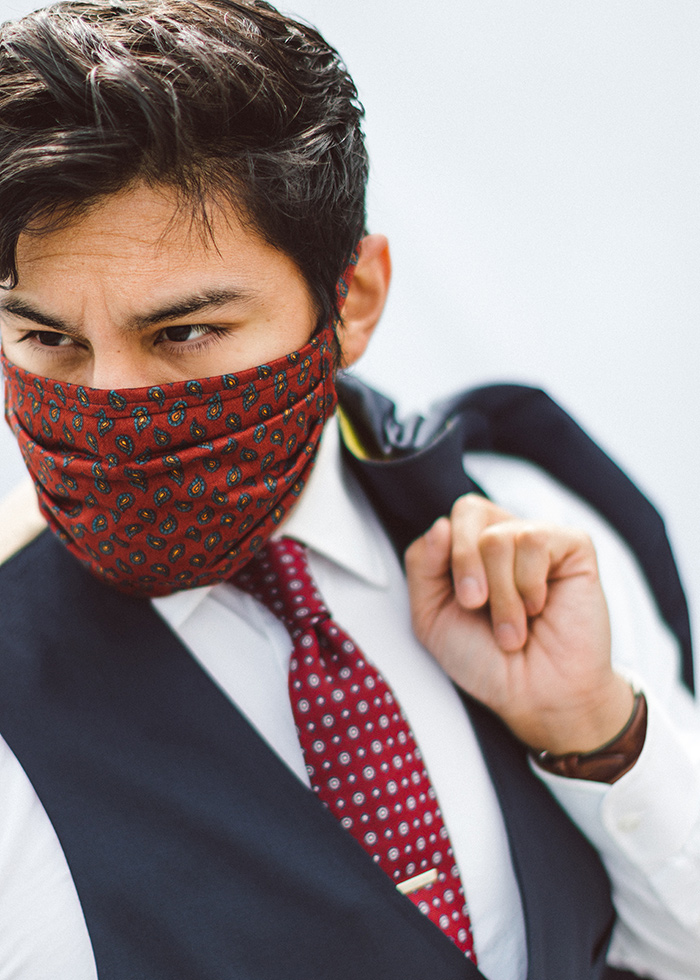 Matching
Insisting on wearing a face mask that matches a suit exactly will probably mean a visit to the tailor who originally sewed and composed the suit and may have a leftover swatch of material from which to fashion a face mask. However, it isn't necessary to go to such extremes. Just stick to some of the following rules:
Choose a mask that is the same color as the suit. For example, if the suit is black, wear a black mask. Avoid wearing a blue (or other color) mask that will clash with the suit.
Choose a fabric that is the same or similar to the suit.
If the color and the texture of the mask are similar to that of the suit, this will make for an adequate match.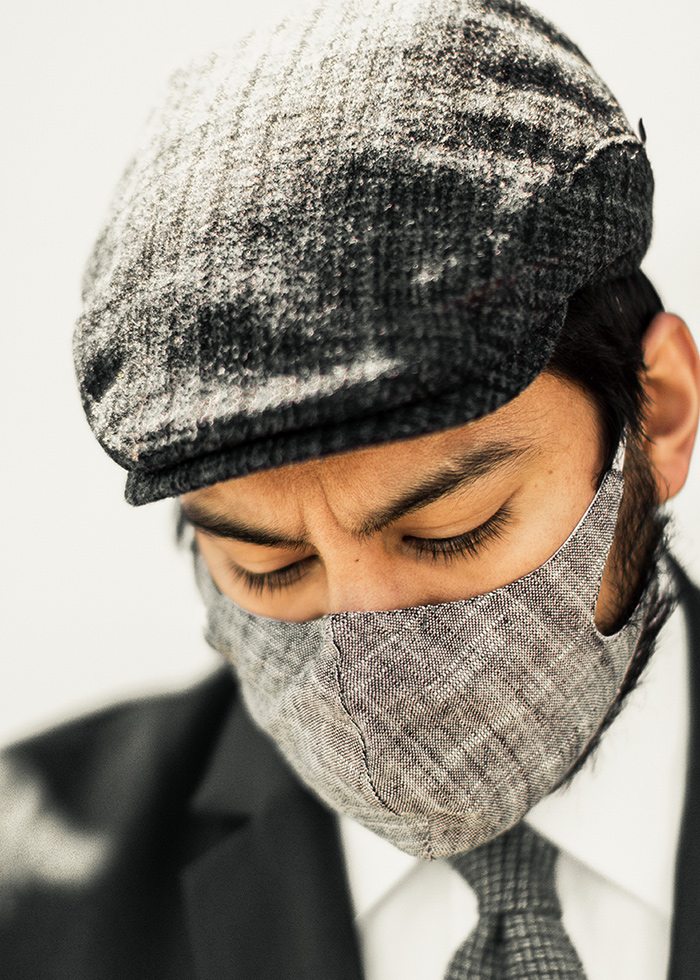 Complementing
A face mask does not necessarily need to match a suit in order to compliment it. The mask can match the color and texture of a shirt, tie or belt or even shoes that have been carefully selected to compliment the suit. This is actually a good way to ensure that the mask does match the suit and doesn't result in a fatal clash.
I recommend to stay away from loud and bold colors and prints unless the mask is being used to make a statement. These masks are vulgar and compliment nothing. Just think about the mask as the latest fashion accessory that should be chosen the same way an expensive watch or cravat would in order to be complementary rather than objectionable.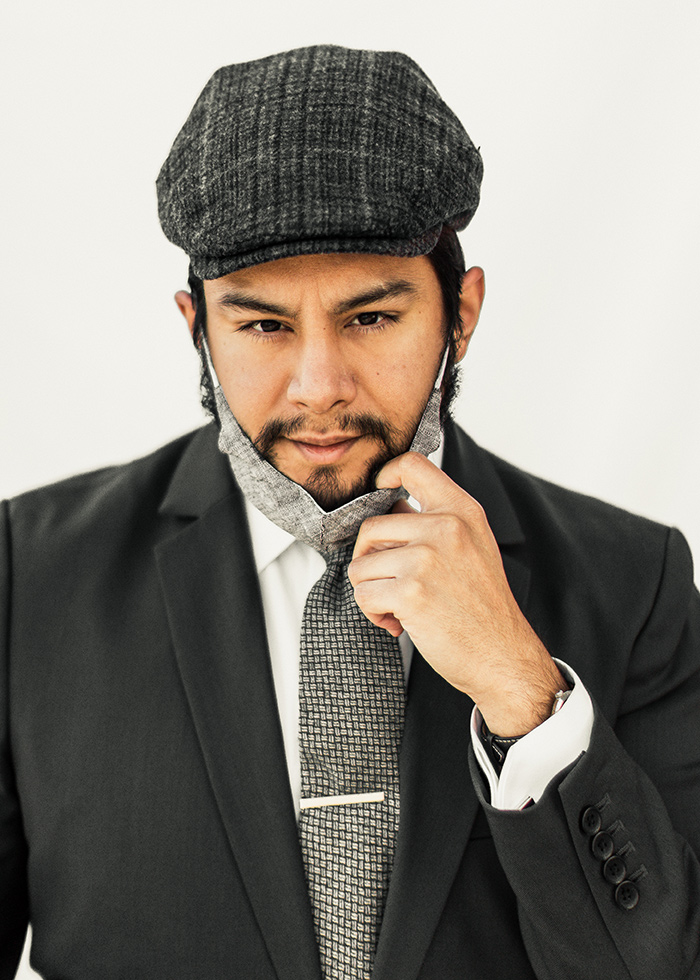 Comfort & Fit
Just like a perfectly tailored suit, the fit of a face mask speaks volumes about personal style and taste. A face mask should ideally fit the face snugly without being tight enough to make breathing difficult. A loose, flapping mask allows unwanted germs in (or out) through the gaps and is simply an eyesore. Think of it like wearing an oversized sweater to work over the perfectly tailored suit.
The expertly tailored face mask fits the face properly and should be comfortable. Remember that every person has different face and nose shapes which means there really is no such thing as one size fits all. A perfect fit also means less tugging and adjusting the mask once it has been placed on the face. Touching the face mask after putting it on is taboo according to the CDC, and can result in any viruses spreading from the mask to the hands, surfaces, and other people.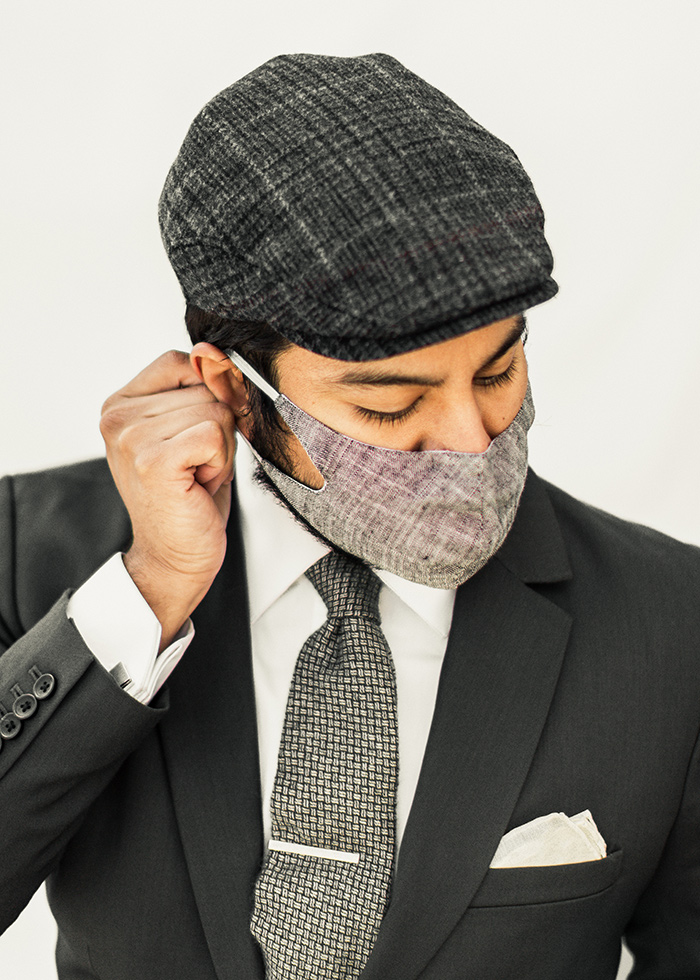 The Straps
There are a wide variety of options available when it comes to ways to secure the face mask and prevent it from moving around. The most popular is elasticated straps that are placed over either the ears or the head. Comfort is once again of main concern and straps that go over the head seem to be preferable in most wearers.
Tie straps are another option. These straps are not elastic and have the benefit of being fully adjustable. Unlike elastic straps, they will not stretch out over time but can be tied in different ways to suit just about any hairstyle. Velcro straps are also available but not always ideal for use with hair.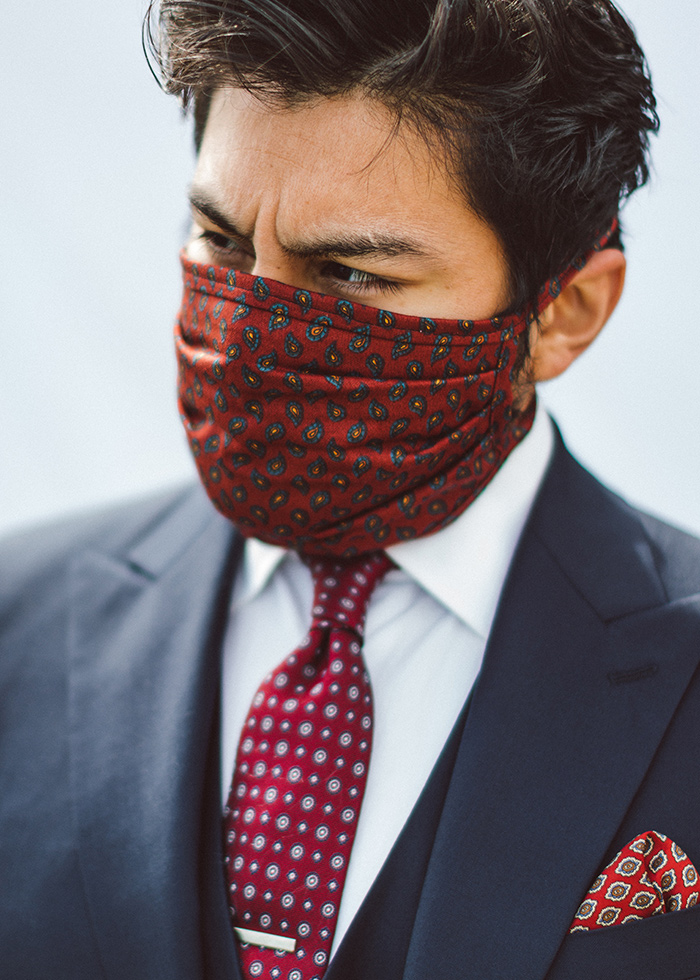 The Occasion
Every good businessman knows to dress for the occasion. It is advisable to have a variety of different masks to match different suits as well as events. Changing out the mask to fit a specific occasion can also make you stand out among the crowd.
Editor's Note: Diego León, aka Dandy In The Bronx and pictured here with the masks, is a menswear and lifestyle content creator based in The Bronx, N.Y. A former preschool teacher, Diego dressed well everyday so his students felt more comfortable in their uniforms. Realizing the positive impact his fashion had on the students, he decided to learn more about menswear past and present. You can connect with him on Instagram at @dandyinthebronx and on his Dandy in the Bronx blog.