There will come a time in the not too distant future when shoes will matter again. And by that we mean — and perhaps you'll empathize with us on this one — footwear for the past nine months has boiled down to two options: "slippers or sneakers?" Simply put, it's been slippers (or Birkenstocks) for around the house, as well as work days scheduled around Zoom, and sneakers for venturing out on a run or quite literally anything else. 
There's been no reason to contemplate the matter further — no parties calling for a new pair of kicks, not enough weddings to justify fresh velvet slippers, and not nearly enough travel for a revised set of wear-without-socks vacation loafers. But soon, we will all have an occasion for which new shoes are necessary and now is the time to be thinking about what that pair will be. 
Fortunately, you don't need to leave the house, or don footwear, to sip a good bourbon.
Smart shoppers know that the holiday stretch is the time to buy. The world is on sale and there is plenty of stock to go around. Browse now, buy at the end of December.
And so, without further ado, we bring you the second installment of our Winter Wishlist, comprised of the boots, loafers, and brogues that've caught our eye. Most are pricey (it is a Wish List after all) but keep in mind that they're all full price and there's at least another month of promotions and markdowns working in your favor.
So scroll, flag, consider, and contemplate where you'll go and what you'll pull on once the world opens up.
Put aside your well-worn Nikes and opt for something with a bit of flash. Gucci's Alessandro Michele delivered just that with this pair inspired by the Duke of Devonshire with a hit of sex appeal à la Tony Manero. 
The almighty "mule" for men has eclipsed mere "trend," proving an efficient choice for those who travel without TSA PreCheck.
Brogues with punk appeal. Wear them with jeans, a suit, or a tux if you dare.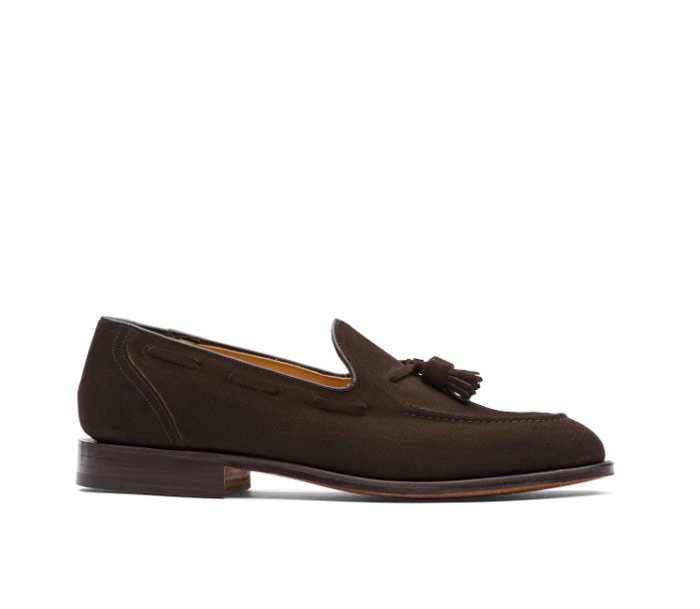 Church's in suede: The shoe for jaunts across the pond as well as dinners that call for a jacket.
The same ones you wore in high school. If it ain't broke …
The finest "hiker" boot ever made. Done in the style of its cousin the "hiking boot," but with a level of luxe better suited to shoveled sidewalks than muddy trails.
The no-nonsense cowboy boot reimagined by Saint Laurent. Perfect for treks across pavement or a weekend at the ranch.
Available in every color under the sun, this Italian staple was designed for driving, but wears well even without a pedal to push.
The smoking jacket, in shoe form. Party on.
Chelsea boots so fine you'll tend to them like you do your prized houseplant. Just be sure to keep the "alive" with a kit like this.