The land of Willie Nelson, BBQ, and hip hotels 
"Austin is where you go when you want to relax in a place that's still happening." This is how one person at a party explained the draw of the city known as the "Live Music Capital of the World" that Willie Nelson has called home since 1972. With over two million people living within the metro area, it's one of the fastest growing places in the U.S. population-wise (see Tesla, Apple, eBay) and, even without mentioning corporate tax rates, it's easy to see why.  
It's an outdoorsy city, but one that prizes good food with a side of good style as much as it does wide open green spaces. There are plenty of parks, lakes, and nearby hiking trails, which would appeal to anyone who likes to stay active while getting some fresh air. It's not all about exercise en plein air, though, there's also the Kelly Wearstler designed Austin Proper Hotel, a BBQ restaurant helmed by a James Beard Award winning chef, and the largest university-owned art collection in the US.
In short, there's something in Austin for everyone. Make it a stop on your road trip out West or book yourself a long weekend full of nothing but R&R, but before you do be sure to check out our recs for what to check out while you're there, below.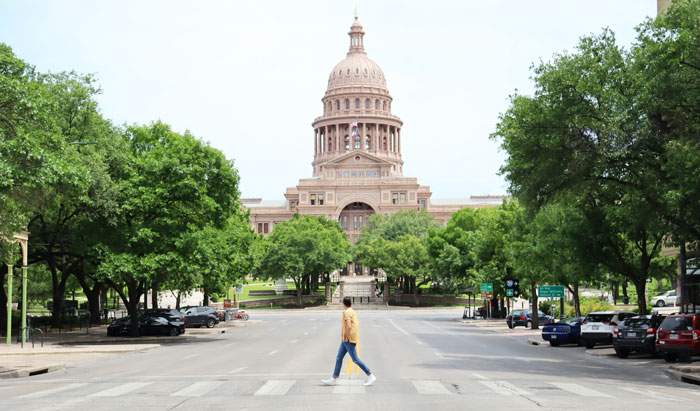 Where to Stay
Austin Proper Hotel
Located in the Second Street District, the Austin Proper Hotel features interiors designed by Kelly Wearstler and is just a short walk away to such attractions as Lady Bird Lake and Austin City Limits. Spend an afternoon catching rays on the fifth floor pool then grab a drink at The Peacock bar before walking yourself to dinner on the town. 
The Carpenter Hotel 
More laid back than the Austin Proper Hotel, The Carpenter is still one of the most happening places to stay. Situated in an old union hall building surrounded by pecan trees, it speaks to the good life in the golden West. Rooms showcasing the best of "desert casual" design (tanned leather chairs, earthy linens, cement floors) are comfortable and unpretentious. It's hip, but not hipster, and you might just have to talk yourself into bothering to leave.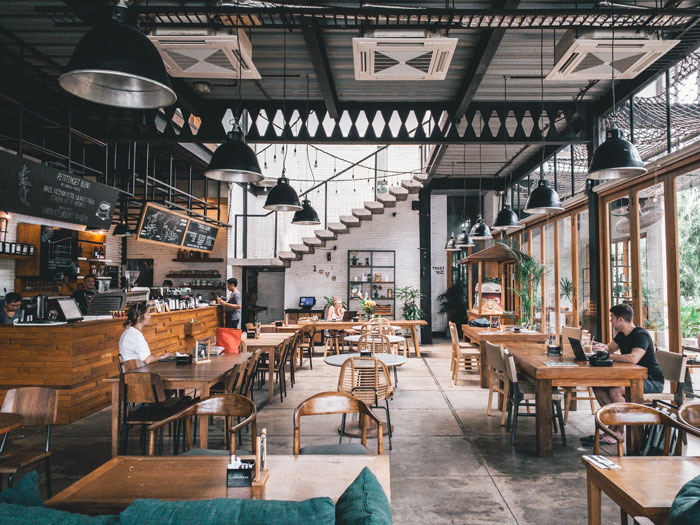 Where to Eat
Foreign and Domestic
Foreign and Domestic is farm-to-table, Texas style. Chefs Sarah Heard and Nathan Lemley believe in local ingredients and source most everything from nearby farms. Creative dishes are why people from all over flock to this hotspot, where standout menu items like venison tartare and pork chops with a side of miso cabbage slaw are the norm. 
Franklin BBQ
Founded by James Beard Award winner Aaron Franklin, this is the go-to spot in Austin for Texas BBQ. Fans include Anthony Bourdain, President Barack Obama, and Jimmy Kimmel. Need we say more? It's Bourdain approved!!
Ramen Tatsuya
The brainchild of Austin-based chefs Tatsu Aikawa and Takuya Matsumoto, Ramen Tatsuya is where to go if you're in the mood for inventive takes on the namesake Japanese soup. It's first-come, first-served, so show up early or be prepared to wait as it's one of the most popular restaurants in town.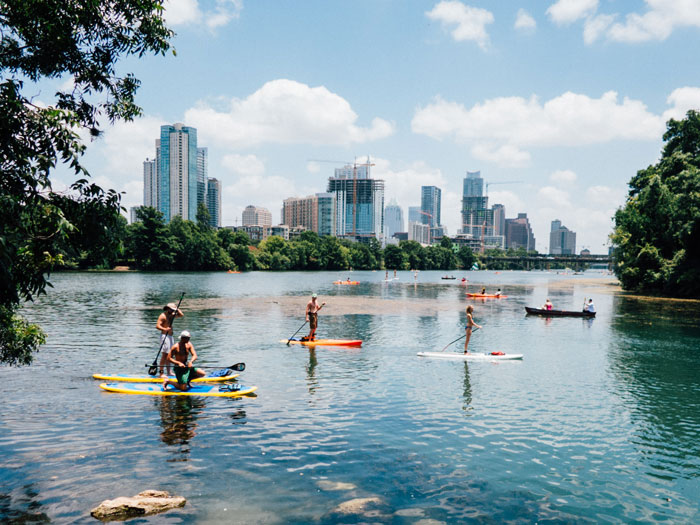 What to Do
Blanton Museum of Art
Head to the Blanton Museum to see the country's largest university-owned collection of art with works by William Robinson Leigh, Henry F. Farny, and Eric Avery. The real attraction, though, is Ellsworth Kelly's  2,715-square-foot stone building with totemic wood sculpture and colored glass windows. Aptly titled Austin, it's one of Kelly's most monumental works.  
Paddle Board
Do as the locals do and try your hand at paddleboarding. It's a workout that doesn't feel like a workout and, if you do it on Lady Bird Lake, you'll see some of the city's best skyline views. Book a board just for you or take part in a group tour through Austin Paddle Shack. 
Barton Springs
Barton Springs is another must-do activity for anyone who likes living life outdoors. A three acre man-made pool fueled by an underground spring, it's located in the middle of Zilker Park, meaning you can also cross "forest bathing" off your list. Pack your bathers, pack your sunscreen, and ready yourself a bourbon cocktail to-go. 
Editor's Notes: Top photo by Christina Boemio. Capitol building photo by Dale Honeycutt. Restaurant interior photo by @shawnanggg. Paddle boarding photo by Tomek Baginski. All images found on Unsplash.