Simple and delicious 
Warmer weather calls for lighter meals and grilled salmon is just the ticket. A healthy fish chock-full of the kind of omegas we all need, it's filing, it's fresh, and it's good for the heart. Cook it outside and make the most of the spring weather. Serve it with your favorite side dish—grilled asparagus, mashed russets, a green salad—and feel good about having prepared something that won't be cause for regret later on. 
Grilled Salmon Ingredients (Serves 2): 
2 salmon fillets 
Olive oil 
Grilled Salmon Marinade Ingredients: 
½ cup coconut aminos 
¼ cup sesame oil 
2 garlic cloves, minced 
1 tsp. chili flakes 
2 tsps. brown sugar (or honey) 
½  lemon, squeezed for juice
Grilled Salmon Marinade Directions: 
Combine all ingredients into a bowl and whisk until sugar/honey is dissolved
Place salmon in a glass baking dish or large bowl and pour over marinade
Cover with plastic wrap or foil
Marinate for twenty minutes in refrigerator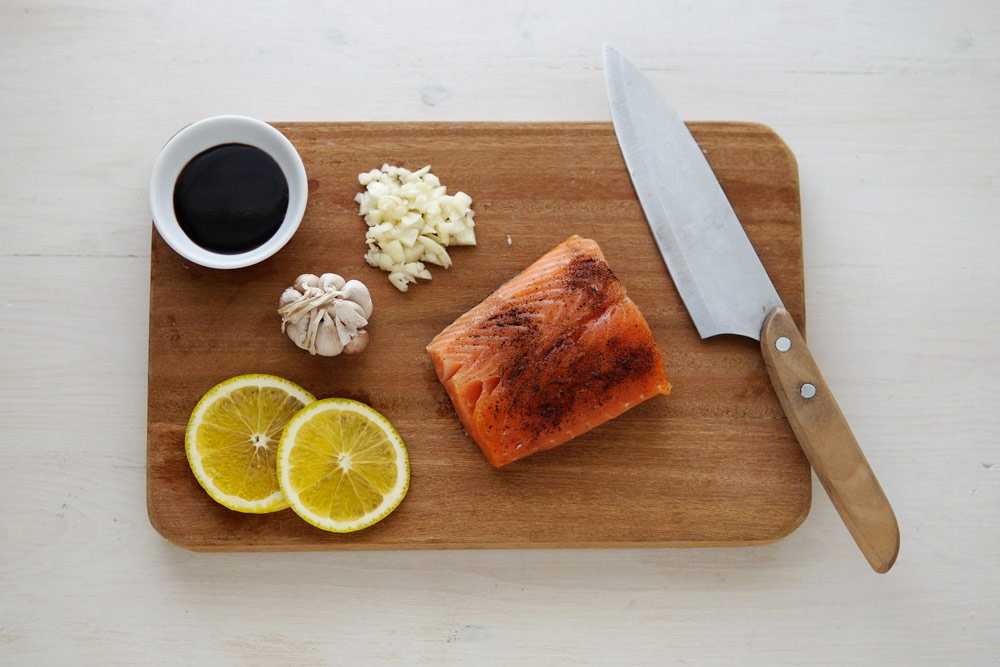 Grilled Salmon Cooking Directions (for gas grill): 
Turn on grill to high heat
When grill is hot, brush grates with olive oil 
Place fillets skin up on grill, cover, and let cook for 2-3 minutes 
Carefully turn fish over so the skin side is on the grill 
Reduce heat 
Close lid and cook for 2-3 minutes 
Remove from grill and serve immediately 
Editor's Note: Top Photo by Caroline Attwood on Unsplash. Second photo by Agto Nugroho on Unsplash.