One pan, one chicken, and plenty of fixings
In our book, roast chicken is a winning comfort food. It's healthy, filling, and easy to make. It's a meal that requires some involvement, but not so much that it's not an enjoyable process. You've got to dedicate some time and effort—make a list, go to the store, prep the ingredients—and this is part of what makes a roast chicken so special. You can't rush it, so you're forced to slow down. You've got to tend to the bird and the veggies, watch your fingers as you peel carrots, preheat the oven, and wait until it's done. You might not even want to put in the effort when you start out, but you will, and you'll be glad you did.
See how we like to prepare this go-to weeknight dinner below (a recipe adapted from Melissa Clark's original version for the New York Times) and the cocktail we like to pair it with here. 
Roast Chicken Ingredients: 
1 (3 1/2-pound) whole chicken, dried with paper towel
2 ½ teaspoons salt
2 teaspoons black pepper
Fresh herbs (think rosemary, thyme and sage)
3-4 peeled parsnips, small potatoes, carrots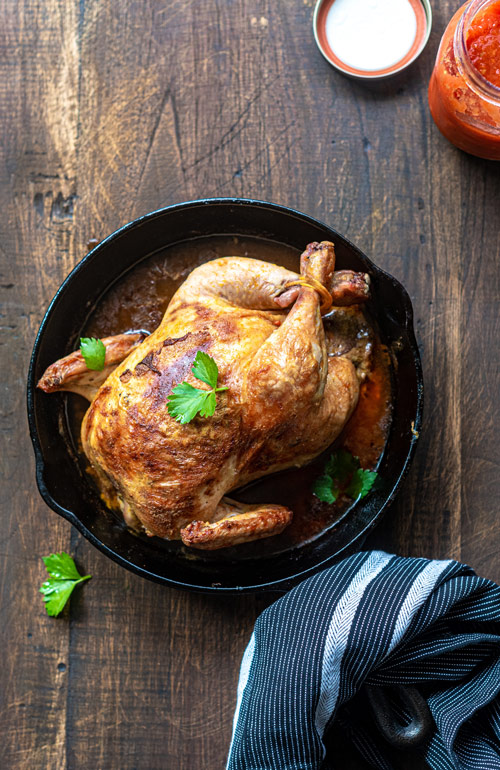 Roast Chicken Directions: 
Preheat oven to 450 degrees. 
Season the chicken with salt and pepper. 
Place chicken breast-side up in a roasting pan or dutch oven.
Stuff the cavity with herbs and tie the legs together with kitchen twine. 
Surrounded chicken with parsnips, potatoes, and carrots. 
Cook for 50 minutes, then baste chicken with pan juices. 
Continue roasting until chicken's juices run clear when skin is pierced with a knife, 5 to 10 minutes longer. Let stand 10 minutes before carving. 
Editor's Note: Top image by Annie Spratt on Unsplash; Other photo by Anshu A on Unsplash.